Earlier this month, we celebrated International Women's Day! … and I had this ✨brilliant✨ idea to do a marathon watching films by women about women. Actually, I'm currently doing a similar year long challenge and thought, well I could just marathon a few and more! I settled that Saturday, March 27 would be the date. Here's how it went:
---
Pre-Marathon – The goal was to watch at least 6 films, of varying genres, styles and directors/leads (age, race etc). So far, I have 3 films I'd like to get to:
Hustlers (2019)
A Wrinkle in Time (2018)
The Breadwinner (2017)
The snacks were bought, the 'lounge' area was set up and I was ready to go!
---
12:45am – I just finished the book by Madeleine L'Engle, so I'm kicking things off with …
A Wrinkle in Time (2018) dir. Ava DuVernay
genres: adventure / science fiction / fantasy
After the disappearance of her scientist father, three peculiar beings send Meg, her brother, and her friend to space in order to find him.
In my opinion, the source material wasn't the best and Ava did what she could. The soundtrack was a bit off for me, it didn't suit the tone. I do think the cast did a great job though.
---
7:00am – Next up …
Always Be My Maybe (2019) dir. Nahnatchka Khan
genres: comedy / romance
Reunited after 15 years, famous chef Sasha and hometown musician Marcus feel the old sparks of attraction but struggle to adapt to each other's worlds.
I really enjoyed this one. I like when comedies actually make me laugh and this one did. The ending was cute too.
---
10:00am – For this next watch, I wanted to it to be an animated film because I rarely hear of women in animation. In fact, when I checked this Letterboxd list, there were only 8 animated feature length films by and about a woman. My pick was …
The Breadwinner (2017) dir. Nora Twomey
genre: drama
A headstrong young girl in Afghanistan, ruled by the Taliban, disguises herself as a boy in order to provide for her family.
I started crying probably 20 minutes in and never really stopped 'til it ended … I'm not even kidding.
---
12:30pm – Honestly it took me too long to watch this one …
Hustlers (2019) dir. Lorene Scafaria
genres: crime / drama / comedy
A crew of savvy former strip club employees band together to turn the tables on their Wall Street clients.
The needle drops in this were sooo good, I was so hyped watching it. The cast was great too.
---
2:50pm – I then decided to watch a documentary. I had a few in mind but went with …
BLACKPINK: Light Up the Sky (2020) dir. Caroline Suh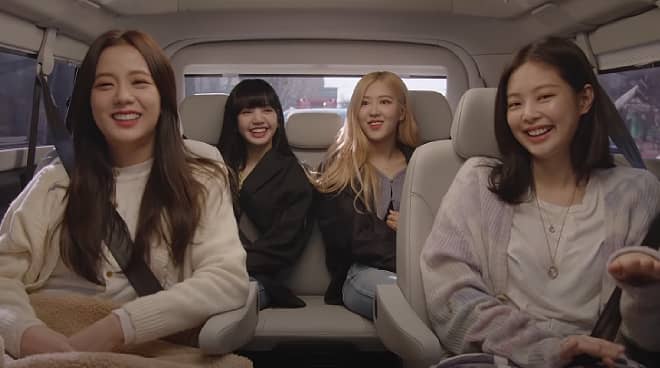 genre: documentary
Record-shattering Korean girl band BLACKPINK tell their story — and detail the hard fought journey of the dreams and trials behind their meteoric rise.
Don't quote me on this, but this might be the beginning of my full-on Blink era.
---
5:15pm – Up next …
Lingua Franca (2019) dir. Isabel Sandoval
genre: drama
Olivia, an undocumented Filipina immigrant paranoid about deportation works as a caregiver to a Russian-Jewish grandmother in Brighton Beach, Brooklyn, NY. When the man she's secretly paying for a green card marriage backs out, she becomes involved with a slaughterhouse worker who is unaware that she's a trans woman.
I don't want to say much about this because I may spoil it? but I really appreciated this film even though I was TENSE throughout.
---
7:45pm – This film made my watchlist after I saw someone mention it on Instagram some time ago …
The Forty-Year-Old Version (2020) dir. Radha Blank
genres: drama / comedy
Desperate for a breakthrough as she nears the big 4-0, struggling New York City playwright Radha finds inspiration by reinventing herself as a rapper.
I liked the style of the film. It's funny and has great acting. A bit too long for me though.
---
10:00pm – And for the final movie, I was debating watching something pre 2000 but eventually just settled with …
The Fits (2015) dir. Anna Rose Holmer
genre: drama
Toni, a tomboyish boxer, lands a spot on an after-school drill team in the West End community of Cincinnati. She eagerly absorbs routines, masters drills, and even pierces her own ears to fit in. It's the joy of her first friendships and her discovery of dance. Shortly after Toni joins the team, most of the girls on the team suffer from episodes of fainting, swooning, and shaking in a seemingly uncontrollable catharsis. Nobody can explain the mysterious outbreak. These fits soon transform into a rite of passage as the trauma draws the other girls closer together. Caught between her need for control and her desire for acceptance, Toni must decide how far she will go to embody her new ideals.
It was nothing I expected and honestly I'm not even sure if I fully understood what happened. But, I really loved the screen presence of Royalty (Toni) and just overall how dance team shenanigans were portrayed.
---
11:30pm – So that's 8 films! I'm happy I watched that many and enjoyed them all (as expected).